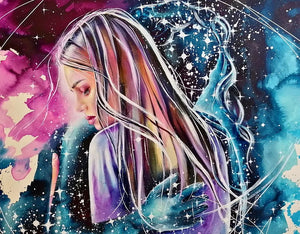 MY ANGEL // Original
Sale price Price $1,604.00 Regular price
 MY ANGEL
**Original**
Watercolour / ink on paper.
Mounted and framed
59.4 x 84.1 cm (image size)
Complete with a hand-signed certificate of authenticity
"A painting which I Created following losing my beautiful Mum. This was a very theraputic process which allowed me to express my emotion and thoughts. I often imagine where my Mum is now in heaven and long for her embrace" 
Emma Grzonkowski