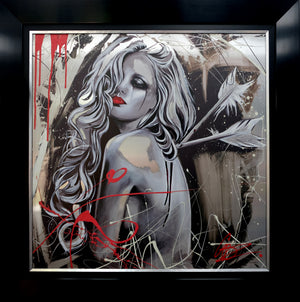 STRUCK BY LOVE // Limited edition
Sale price Price $507.00 Regular price $1,021.00
Struck by love
From Emma's Alter ego's collection where she explored various personas which she could relate to personally. 
Struck by love is inspired by the 'Hopeless romantic' character.
'This piece inparticular expresses the pain which often goes hand in hand with love. As something so beautiful always has and ending in some way or another. The arrow symbolizes the wounds of love.
At the time of creating this I had loved and lost therefore I could identify with the ideology of the 'Hopeless romantic.'' Emma Grzonkowski
Limited Edition, Hand Embellished Flatbed Print on Aluminium 
Framed size : 38" x 38"