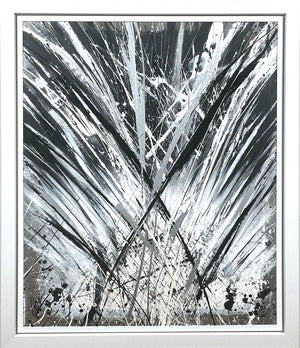 STAR CROSSED // Original
Sale price Price $5,069.00 Regular price
**Original** 
Oil / mixed media on aluminium

Framed size: 116cm x 135cm 
Complete with a hand-signed certificate of authenticity. 

'STAR CROSSED '
"As many of my loyal collectors will know, my paintings have always had an element of abstraction within them but this is the first 'fully' abstract piece which I have created as a professional artist.
It was exciting to try a new style of art without the figure being involved. It allowed my to focus to fall on the physical and emotional aspect of painting which I have always loved to explore as a semi abstract artist.
I created this piece of art by throwing my energy across the surface in quite a chaotic manner. It is built up of many layers of paint with the outcome of the surface being very textured.
There are no distractions within this painting, it is purely painted from an inner instinct which is quite raw"
Emma Grzonkowski