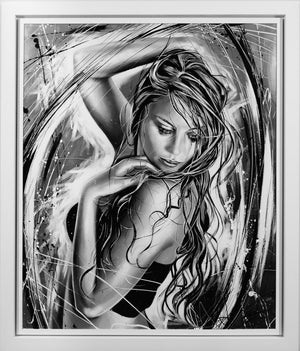 LOCKED INSIDE // Original
Sale price Price $6,352.00 Regular price
** Original **
Oil on aluminium
Framed size: 116cm x 135 cm 
Complete with a hand-signed certificate of authenticity. 

'LOCKED INSIDE'
 "This painting expresses the moment of feeling lost within your own thoughts and emotions, which can often lead you to feel swept away in your own consciousness. 
The figure looks reflective and immersed in her own story and almost carried away physically with the wave of emotion.
 I have always been in my 'own world' since being a child and so I can relate to this form of expression which I wanted to convey. 
This painting was created in two physical styles. Slow and and thoughtfully delivered whilst painting the figure and fast paced whilst creating the energy which surrounds her."
Emma Grzonkowski