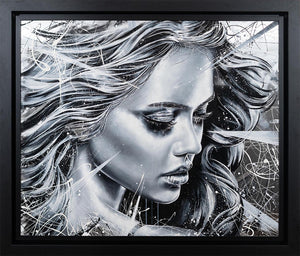 HEARTSTRINGS // Original
Sale price Price $5,069.00 Regular price
**Original**
Oil on aluminium
Framed size: 116cm x 135cm 
Complete with a hand-signed certificate of authenticity. 
'HEARTSTRINGS'
"This painting expresses a reflective state of emotion when you are deep in thought with your heart feeling pulled in many directions. The figure looks 'still' and calm but the abstract shapes and sharp lines express  the many thoughts and feelings going through her head.
I think we all have moments like these where we have quiet moments to ourselves where our heart feels overwhelmed with emotion."
Emma Grzonkowski